Absolutely No Dogs Allowed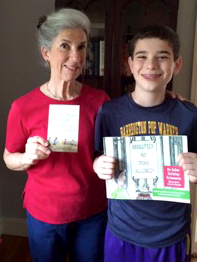 Absolutely No Dogs Allowed! by Asher Kranowitz tells the story of a boy, his dog, and his A to Z menagerie of animals attempting to enjoy a walk in the park. Illustrated by Annette Abrams, this delightful alphabet book with alliteration highlights our senses and sensory issues, as well as our emotions. Carol Kranowitz's guidelines to help parents and teachers explore the senses and emotions with their young children are included.
The author Asher Kranowitz dictated this book to his grandmother when he was in second grade. The book was inspired by a sign he noticed when visiting the beach. He lives in Barrington, Rhode Island, and loves sports, especially basketball. He has a younger brother Noah and two dogs, Frisco and Piper.